ABOUT
Boteco Brasil Soho is the only place to watch the World Cup this summer and enjoy a authentic and generous culinary and cultural experience of Brazil at the same time. By bringing an unprecedented team of creative talent to London Boteco Brasil celebrates a contemporary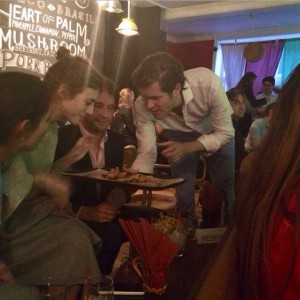 Brazil beyond beaches and samba. At its heart is the unique culinary world created by celebrated food artist and architect Simone Mattar.
Catering to all senses the ongoing programme is curated by Oskar Metsavaht and Cid Blanco collaborating with both celebrated and emerging Brazilian talent in bringing their craft to London.
There will be film screenings, exhibitions, talks and culinary classes. And as Brazil wouldn't be the same without its broad music repertoire, Boteco Brasil Soho will feature an ever evolving musical experience.
On match nights Boteco Brasil Soho will of course feature live large screen broadcasts of the games and will be a welcome alternative to crowded pubs by delivering a carefully curated experience for all senses around the "most important of all the unimportant subjects" (Pope John Paul II).
More than a match – make the most of your World Cup experience and lose yourself in the world of Boteco Brasil.
BROUGHT TO YOU BY
Crane.tv is a storytelling and publishing company incorporating a video magazine and a branded entertainment agency. Using video as our main medium our features cover the arts, design, fashion, food and travel. Our content reaches some 200,000,000 monthly users across our distribution network.
The Department is a creative production company with a strong track record producing events around arts, sport and culture. Their reputation is built on creating extraordinary experiences by championing the creative talent behind the world's most unique events.
The Brazilian Embassy in London is the diplomatic representation of the Federal Government of Brazil in the United Kingdom. The current ambassador to the Court of St James is HE Roberto Jaguaribe.
Celebrating its 70th anniversary in 2014, The Anglo-Brazilian Society encourages cultural exchange between Brazil and the United Kingdom. The Society also supports UK-Brazil charity projects which focus on helping young people fulfil their potential.