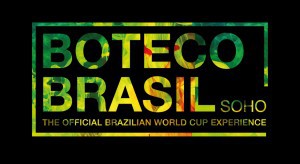 On 3rd July, play away from your typical boozer and join the action at Boteco Brasil Soho, the culinary and cultural home of the "country of football" during this year's World Cup.
Watch the beautiful game from all Word Cup matches in full HD on large screens, while you experience contemporary Brazillian food and culture included in your ticket. No passport necessary.
Food – Simone Mattar, celebrated food designer described as "inspirational" by Ferran Adria of elBulli Restaurant.
Design – Moritz Waldemeyer, the internationally renowned designer and visual artist.
Curators – Oskar Metsavaht and Cid Blanco (famous for fashion brand Osklen and Casa Brasil at Sommerset House during London 2012 Olympics)
Exhibition – art, music, fashion, design and photography from some of the biggest names in Brazil.
Tickets include a spectacular culinary experience with all food included and a complementary drink.